What is Domestic Violence?
Domestic violence is a pattern of abusive behavior exhibited by one person towards another between whom there is a relationship. Domestic violence is characterized by the misuse of power and control. It includes physical, emotional, psychological, verbal, sexual, and economic abuse. Legally, domestic violence includes a broad spectrum of relationships including violence between siblings, children and parents, roommates, caretakers, etc. Domestic violence is not a momentary loss of temper, but an ongoing technique used by the batterer to enforce control through the use of fear. The batterer makes a conscious decision. Use the Wheel of Power ad Control to help determine whether you may be a victim of domestic violence: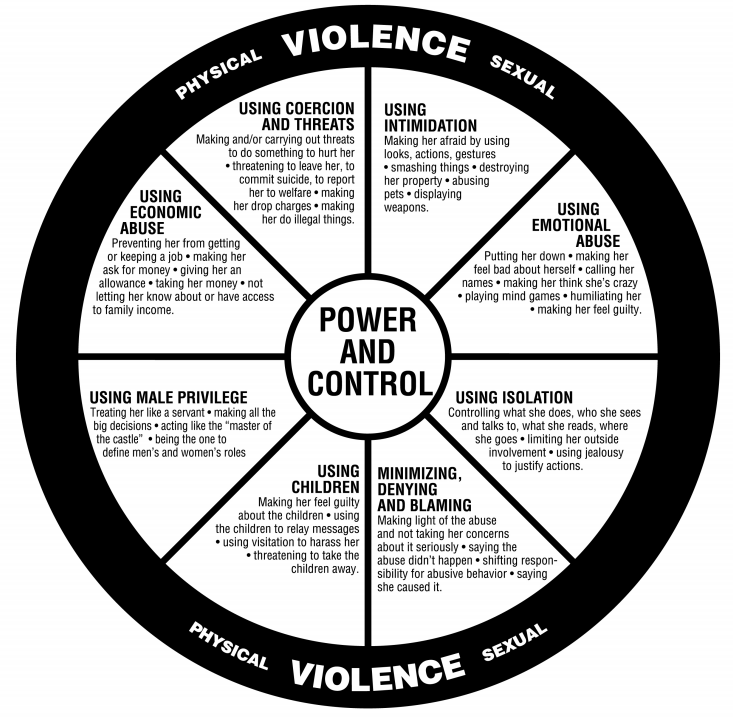 If you are afraid of your partner or spouse, you are not alone. Get help now. Free and confidential help is available 24-hours a day, 7 days a week at 202-529-5991. Remember, the abuse is NOT your fault, and leaving is never easy. We serve all victims of domestic violence on our 24-hour hotline, regardless of sexual orientation, language barriers, gender, or immigration status.
2016 Census
One in four women and one in seven men will experience domestic violence.
On September 14, 2016, 1,762 out of 1,910 (92%) identified domestic violence programs in the United States participated in the National Census of Domestic Violence Services. The following figures represent the information provided by these 1,762 participating programs about services provided during the 24-hour survey period.
72,959 Victims Served in One Day​
41,195 domestic violence victims found refuge in emergency shelters or transitional housing provided by local domestic violence programs.
31,764 adults and children received non-residential assistance and services, including counseling, legal advocacy, and children's support groups.
20,239 Hotline Calls  were answered.  Domestic violence hotlines are a lifeline for victims in danger, providing support, information, safety planning, and resources. In the 24-hour survey period, local and state hotline staff answered 19,461 calls and the National Domestic Violence Hotline staff answered 778 calls, averaging more than 14 hotline calls every minute.
26,076 Attended Prevention and Education Trainings On the survey day, 26,076 individuals in communities across the United States and territories attended 1,313 training sessions provided by local domestic violence programs, gaining much-needed information on domestic violence prevention and early intervention.
11,991 Unmet Requests for Services in One Day, of which 66% (7,914) were for Housing
Victims made nearly 12,000 requests for services – including emergency shelter, housing, transportation, childcare, legal representation, and more – that could not be provided because programs did not have the resources to provide them. The most frequently requested non-residential services that could not be provided were housing advocacy, legal representation, and financial assistance. Across the United States, 1,200 staff positions were eliminated in the past year. Most of these positions (61%) were direct service providers, such as shelter staff or legal advocates. This means that there were fewer advocates to answer calls for help or provide needed services.
See the full 2016 Census Report here.