Virtual Volunteer Award Celebration!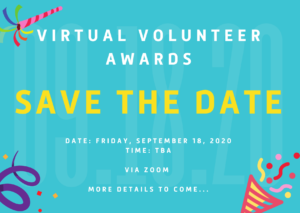 In light of COVID-19, it is more important than ever to inspire new volunteers and thank the ones that continue to serve MSP however they are able. Whether they volunteer their time in person or remotely from their home, they're tremendously helpful during this ongoing crisis. Though we can't celebrate these amazing individuals in person, that doesn't mean we have to skip a celebration. Please save the date – Friday, September 18, 2020 to celebrate these volunteers, who have been more than amazing to My Sister's Place during this ongoing crisis. More details to follow…
Beautification Day at MSP!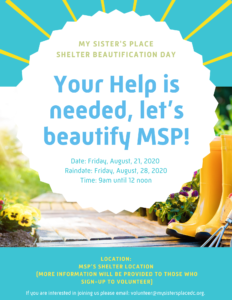 Your help is needed: let's beautify MSP! Please join us for our beautification day on Friday, August, 22, 2020. Volunteers will work at MSP's shelter to beautify and clean up the exterior with annual flowers for the fall season. All of our friends are welcome, as are community members. Volunteers will be given assignments and provided with tools and materials, as well as water and snacks. You are encouraged to bring along your own materials as well. If you are interested in joining us, please email Volunteer Coordinator, Angela Cavanaugh at acavanaugh@mysistersplacedc.org.
Thank you for helping us celebrate our 40th! 
Over the last 40 years, My Sister's Place has been a refuge for thousands of women and children fleeing their abusers. On Tuesday, May 14th we celebrated our work with a cocktail reception held at the headquarters of Optoro, One of our goals was to raise funds to expand our Reaching Independence through Survivor Empowerment (RISE) program. If you were not able to attend and/or would like to support our work now, you may do so using the link below.
Please link to our donation page here. 
Thank you for your support -our work is not possible without you!