Tico SummerFest & Taco Takedown Benefiting My Sister's Place
Top Chefs of DC battle over the best taco! ALSO enjoy food, drinks & refreshments while raising money/awareness for My Sister's Place.

Organized by SRG Pastry Chef Alex Levin and the team of Tico, the inaugural SummerFest & Taco Takedown will take place on Sunday afternoon, June 24, 2018 from, 4:00-7:30pm. The event will include 8 of DC's top chefs presenting his or her take on the best taco, refreshments, and lots of fun drinks — all to raise money and awareness for My Sister's Place.
When: Sunday, June 24th, 4:00pm – 7:30pm
Where: Tico DC @ 1926 14th Street NW, Washington, DC 20009
Tickets are priced at $50 per person and include a sample of all tasting portions of tacos as well as unlimited food and beverages offered at all stations. All proceeds benefit My Sister's Place.
This year's participating chefs include:
Alex Levin, Executive Pastry Chef, TICO & Schlow Restaurant Group
Russell Smith, Executive Chef, The Source by Wolfgang Puck
Amy Brandwein, Executive Chef,Centrolina
Seng Luangrath, Executive Chef, Thip Khao
Bettina Stern, Chef, Chaia
Sasha Felikson, Chef,Cava
Kyle Bailey, Executive Chef, The Salt Line
Marcelle Afram, Chef, Blue Jacket
The Judges:
Bonnie Benwick, Deputy Food Editor & Recipe Editor, The Washington Post
Chris Schmid, Director of Wine & Spirits, Prestige Beverage Group
Nycci Nellis, Co-Host, Foodie & The Beast and Founder and Editor, TheListAreYouOnIt.com
Amy K. Dacey, President, AKD Strategies
Master of Ceremonies
Laura Hayes, Food Editor, Washington City Paper
Special treats from:
Gordy's Pickles
Ice Cream Jubilee
Sponsorships
If you are interested in sponsorship opportunities, please reach out to MSP's Development Associate, Renae Erichsen-Teal at renae@mysistersplacedc.org or (202) 253-4397.
Current sponsorship levels include:
PLATINUM – $10,000
GOLD – $5,000
SILVER – $2,500
SUPPORTER – $1,000
Download our Tico Sponsorship Commitment Form for more details.
Thank You to our Generous Sponsors:
DC War of the Rosés
Join the battle at La Jambe and sip rosé for a good cause!
13 restaurants battle for their participating cause! Each restaurant will be donating 10% of their rosé sales in July to charity, and La Jambe has chosen My Sister's Place! Support MSP with a glass of rosé ALL July at La Jambe.
When: July 1st to 31st
Where: La Jambe @ 1550 7th St. NW, Washington, DC 20001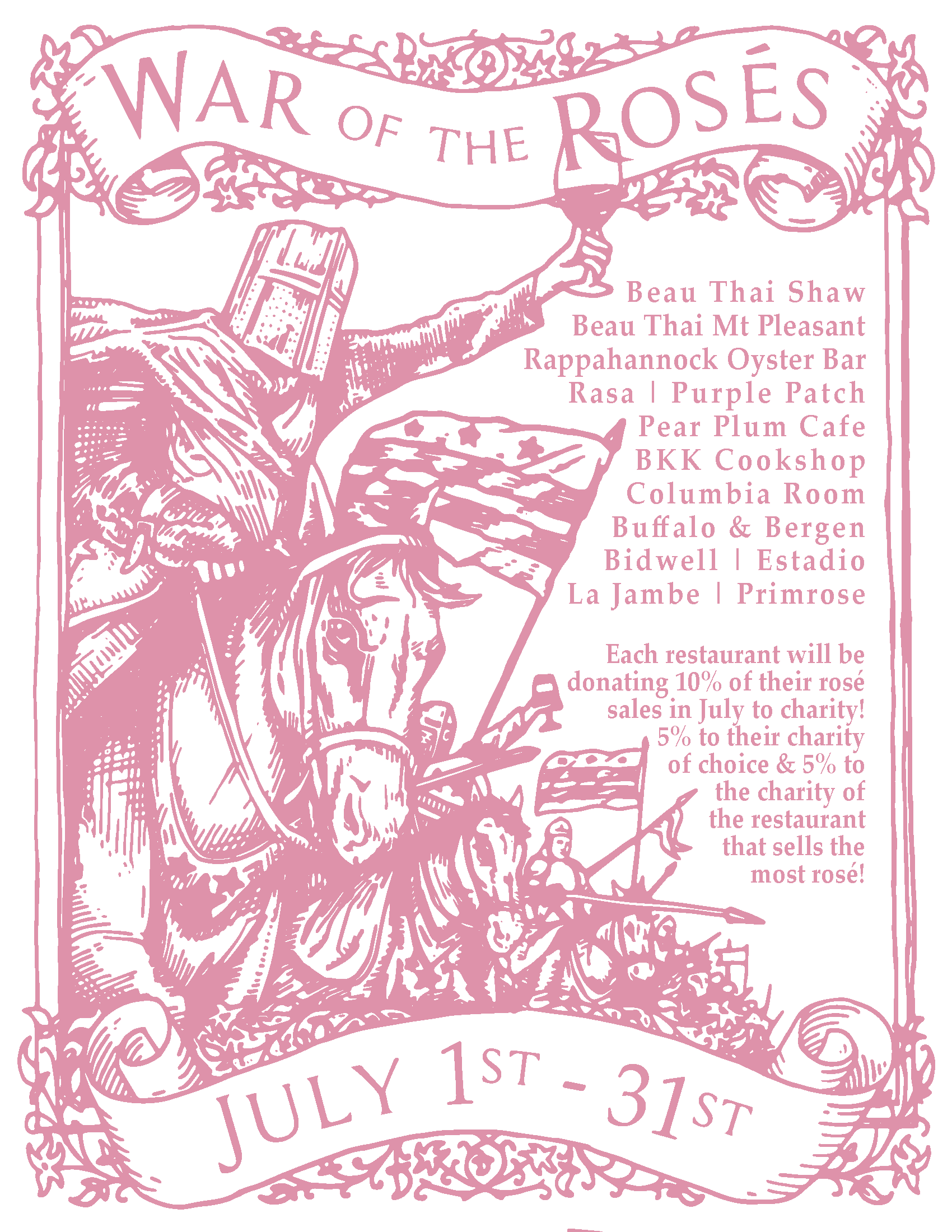 The Clothesline Project                            
Stay in touch for our 2018 Clothesline Project announcement.
What is the Clothesline Project?
In 1990, domestic violence advocates in Massachusetts launched the Clothesline Project. Survivors told their stories of abuse, despair, hope, and empowerment by expressing their feelings and experiences through their own art on t-shirts, which were then displayed on clotheslines and hung throughout the community. Since then, many advocates have used this display as a way to raise awareness about domestic violence and the impact it has on real lives.
MSP held their first Clothesline Project in 1997. Victims of domestic violence often suffer in silence, and the Clothesline Project gives them a voice. We wanted to make sure our clients were heard. In 2013, we held the first Clothesline Project on the National Mall.
Clothesline Project 2017
Thank you to everyone who made our Clothesline Project 2017 a success!  We hung a display for over 200 shirts on U Street, and engaged with passersby and supporters for over 3 hours. See video coverage and images below: