V-Day 2018 Events Hosted by V-Day East of the River
V-Day is a global activist movement to end violence agains women and girls held annually on February 14th. #VDAYEOTR2018 is donating proceeds from their events to My Sister's Place. Read about their events and purchase tickets below, or DONATE to their campaign. To learn more about V-Day East of the River, click here.
Sip, Talk & Create Fundraiser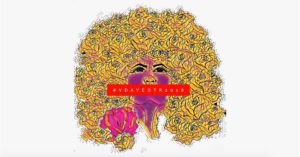 This event is about creating art together and having discourse.  Washingtonian, Kristal M., the commissioned artist who created the HAIR AND ROSES artwork displayed below will guide participants on recreating their own 'Rose Vagina', or other decos on a glass!  No past art experience is necessary. Beards & Roses welcome. Happy Hour Pricing available!
When: Saturday, January 27, 2018 from 4:00pm to 7:00pm
Where: Uniontown Bar & Grill, 2200 MLK Jr Ave SE , Washington, DC 20020
The Vagina Monologues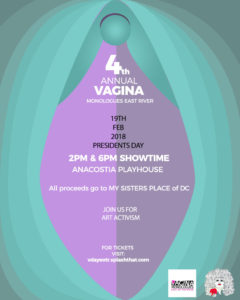 This is our signature event performed only once a year-The Vagina Monologues.  Through art we hope to transform thinking and inspire people to act. It is a collection of stories from women and girls about  topics that may make you laugh, smile, cry or all the above! This is a show that you won't forget,performed in a 360 round black-box theatre,
When: Mon, February 19, 2018 at 2:00pm and at 6:30pm
Where: Anacostia Playhouse, 2020 Shannon Place, SE Washington, DC 20020
A benefit concert in celebration of International Women's Day
Join Cantabo students, coaches, and collaborators for an evening of contemporary music in the Vinyl Lounge at Gypsy Sally's on the Georgetown waterfront.  All ages. Donations will be accepted at door.
Proceeds to My Sister's Place.
When: Friday, March 9th at 6:30pm
Where: The Vinyl Lounge @ Gypsy Sally's on 3401 K Street NW, Washington DC
Enjoy Broadway tunes for a good cause!
An event written, produced, and, performed solely by local Washington D.C. metropolitan area women and mothers raising funds for My Sister's Place, a not-for-profit foundation that primarily helps out women & young girls in our national capital region. Featuring music from a variety of Broadway and Off- Broadway musicals, a storyline unfolds telling tales of the charity and the women it supports. The impetus and compelling stories behind why support is so key. Woven together the stories of the women and their heroine charity, with the classic stage musical sound, M2M builds a collective spirit which encourages human community.
When: Saturday, March 10th at 5:00pm
Where: Jammin Java at 227 Maple Ave E, Vienna, VA 22180
The Clothesline Project                            
Stay in touch for our 2018 Clothesline Project announcement.
What is the Clothesline Project?
In 1990, domestic violence advocates in Massachusetts launched the Clothesline Project. Survivors told their stories of abuse, despair, hope, and empowerment by expressing their feelings and experiences through their own art on t-shirts, which were then displayed on clotheslines and hung throughout the community. Since then, many advocates have used this display as a way to raise awareness about domestic violence and the impact it has on real lives.
MSP held their first Clothesline Project in 1997. Victims of domestic violence often suffer in silence, and the Clothesline Project gives them a voice. We wanted to make sure our clients were heard. In 2013, we held the first Clothesline Project on the National Mall.
Clothesline Project 2017
Thank you to everyone who made our Clothesline Project 2017 a success!  We hung a display for over 200 shirts on U Street, and engaged with passersby and supporters for over 3 hours. See video coverage and images below: