Cafe Saint-Ex Holiday Fundraiser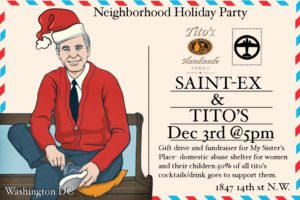 Raise a glass to My Sister's Place!
Sunday Dec 3rd at 5pm, Cafe Saint-Ex is hosting a Holiday Party to support our shelter. 50% of all proceeds from any Tito's based cocktail or drink will go to our shelter families! There will be family friendly activities such as snacks, games & activities for kids of all ages. Mark your calendars:
When: Sunday, December 3rd, starting at 5:00pm
Where: 1847 14th St NW, Washington DC, 20009
The Clothesline Project                            
Stay in touch for our 2018 Clothesline Project announcement.
What is the Clothesline Project?
In 1990, domestic violence advocates in Massachusetts launched the Clothesline Project. Survivors told their stories of abuse, despair, hope, and empowerment by expressing their feelings and experiences through their own art on t-shirts, which were then displayed on clotheslines and hung throughout the community. Since then, many advocates have used this display as a way to raise awareness about domestic violence and the impact it has on real lives.
MSP held their first Clothesline Project in 1997. Victims of domestic violence often suffer in silence, and the Clothesline Project gives them a voice. We wanted to make sure our clients were heard. In 2013, we held the first Clothesline Project on the National Mall.
Clothesline Project 2017
Thank you to everyone who made our Clothesline Project 2017 a success!  We hung a display for over 200 shirts on U Street, and engaged with passersby and supporters for over 3 hours. See video coverage and images below: